CUSTOM HOME THEATER DESIGN & INSTALLATION
Discover sights, sounds, and worlds of entertainment you never thought you'd experience in your own home.
Any room can function as your home theater, and anytime is a good time to build the system of your dreams.  From home theater receivers, speakers, projector systems and more, AnythingTec, LLC can help you envision and bring to fruition your dream of the ultimate home theater system.  Having the right equipment is only part of the decision making process. The room you select, video screen and speaker positioning, the types of remote controls used to operate your equipment, and even subtle changes in lighting levels all affect your home theater experience.
Whatever your home theater needs may be, AnythingTec, LLC combines innovation, professionalism and client service excellence in home theater design and installation. Staying home was never so much fun!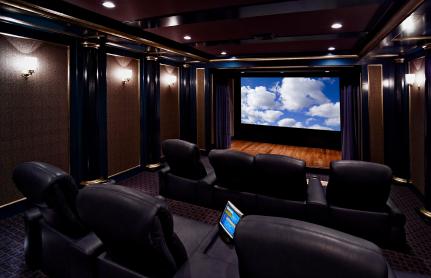 MULTI ROOM SOUND SYSTEM
A custom designed whole home audio entertainment system can help you create the perfect lifestyle in your new or existing home.  AnythingTec, LLC can help you create the ultimate multi room sound system for your home, where the  sounds are so crisp and powerful,  you'll feel like you're  right there in the front row of your favorite concert, no matter what room you're in!
Your music server, satellite radio, and other media systems will be custom configured and positioned for exceptional listening pleasure and accessible from everywhere in your home. Individual room controls also provide solutions for your family's diverse listening tastes.